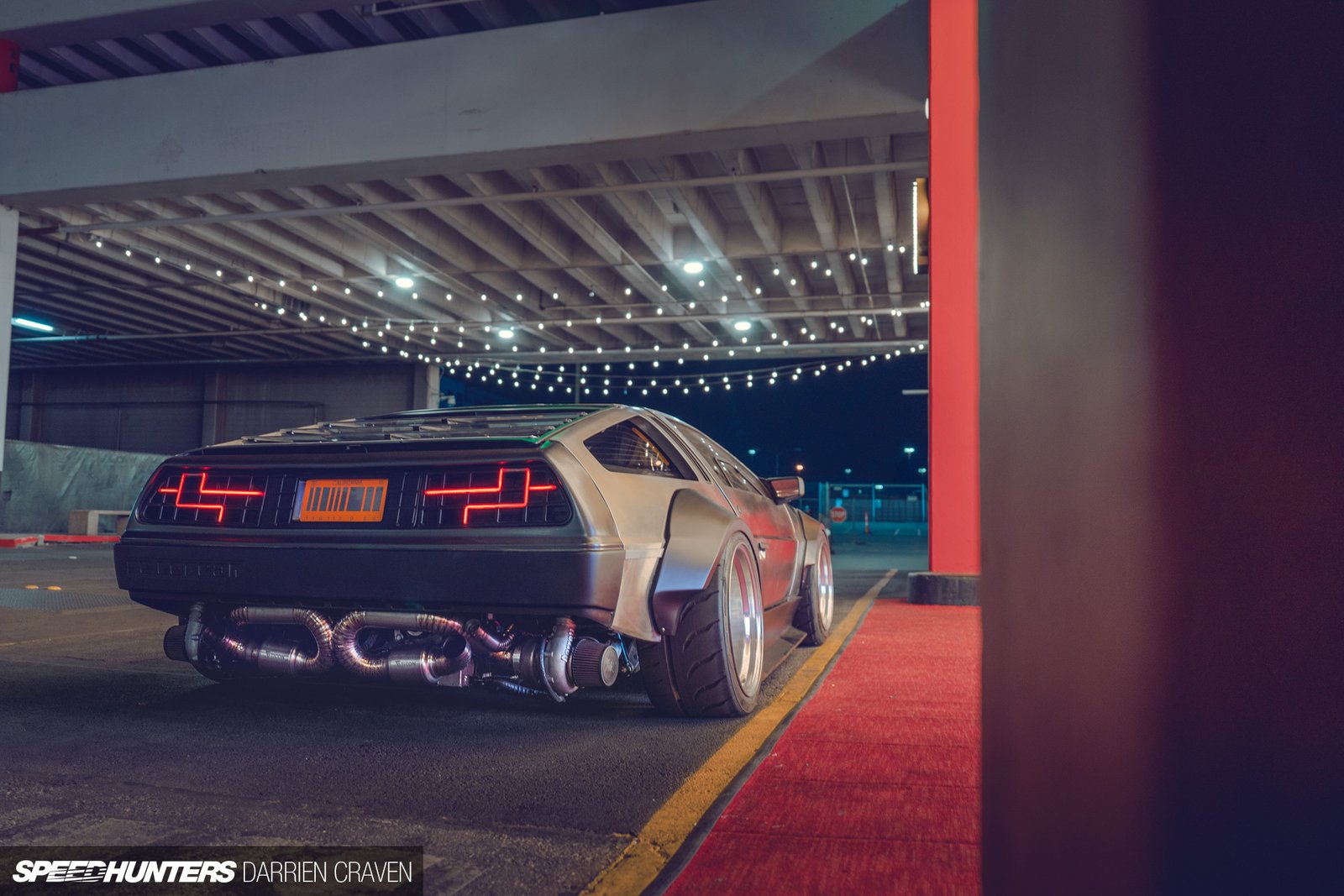 Great Scott! Sorry for making you do this, but I'm going to have to ask you to cast your memory back to 2020 real quick.
This might be a little tricky seeing as we've all done an awfully good job of forgetting about that period in time. It was a terrible moment in human history when everything ground to a halt. And then it stayed there, for what seemed like an eternity as local governments tried to figure out what to do with all of us. All the while, we had to carry out our lives through laggy video conference calls whilst queueing for a limited supply of toilet paper.
Things were looking so bleak even Wonder Woman couldn't help us with her terrible rendition of John Lennon's Imagine. Then finally, when you thought things couldn't possibly get any worse, you'd lose your job and then find out the SEMA Show was being cancelled. Now that's heavy.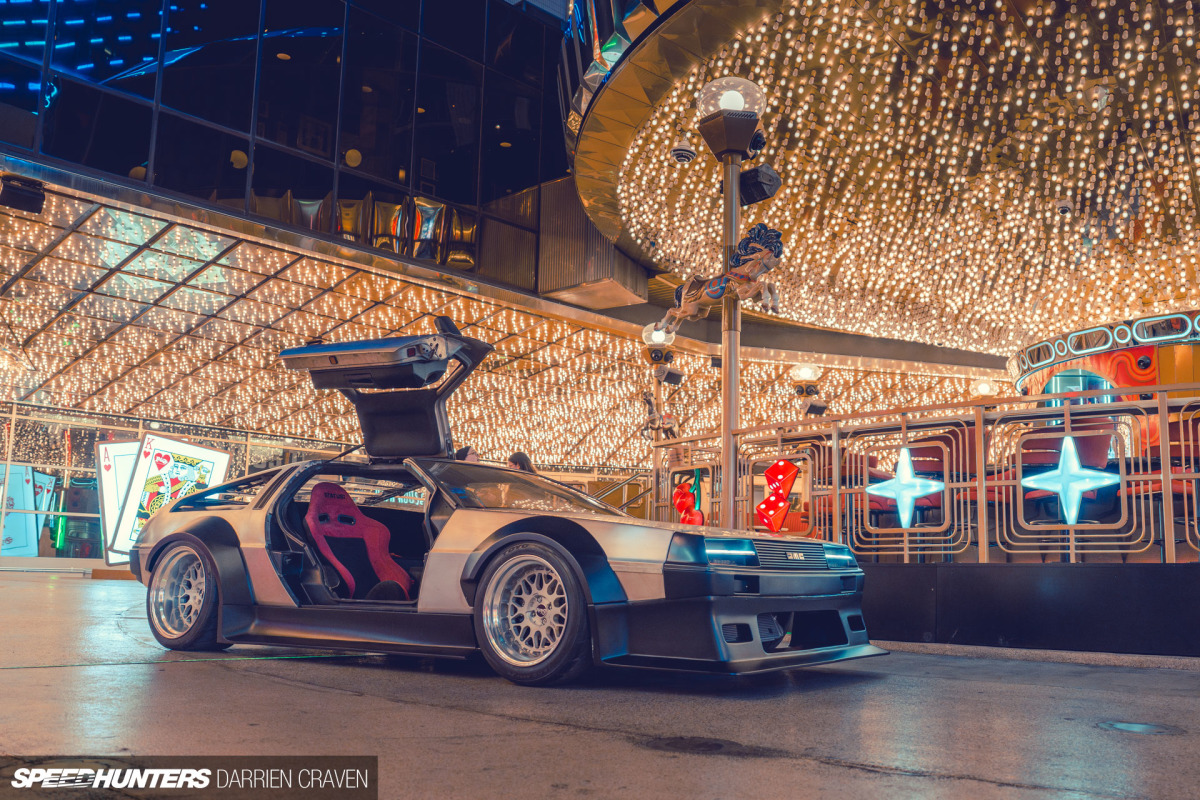 The only thing that got us out of the mess was time and patience, which in hindsight could have been avoided if we simply had a friend with a time machine. Kind of like the one you're looking at here.
Cue Tim Moceri, part-time time machine builder, full time DeLorean enthusiast, and head honcho over at Moceri Auto Craft. Specialising in custom car building and restomods, it was the DeLorean DMC-12 that struck a chord with Tim as his chassis of choice to push forward his modifying envelope. After all, if you're going build a SEMA project, why not do it with some style?
With 2020 being a bust, Tim set his sights on the future.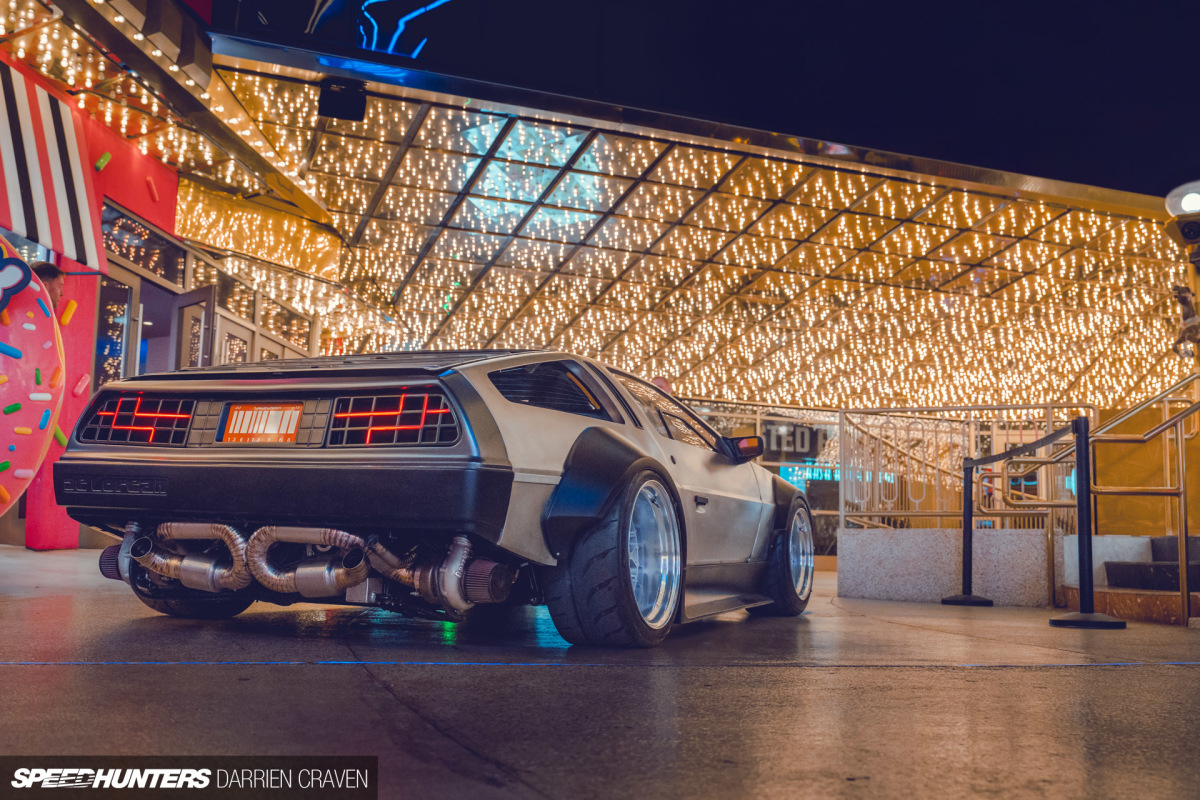 Tim owns a couple of DeLoreans today, but it was his 1981 DMC-12 that became designated the SEMA project. Hoping that the SEMA Show would return in 2021, Tim decided to crack the whip and began working on the car.
Tim has a lot of influences under his belt with this one. Naturally, being an '80s time machine made of stainless steel body panels (which famously came with a 25-year warranty from factory) the car's natural calling lies within the world of cyberpunk.
Pinks, reds, neons, misty manhole covers and grungy, dark, exposed metal skyscrapers is the setting you think of when you think of a cyberpunk DeLorean, and Tim was well aware of it. Importantly, he wasn't scared to lean into it either.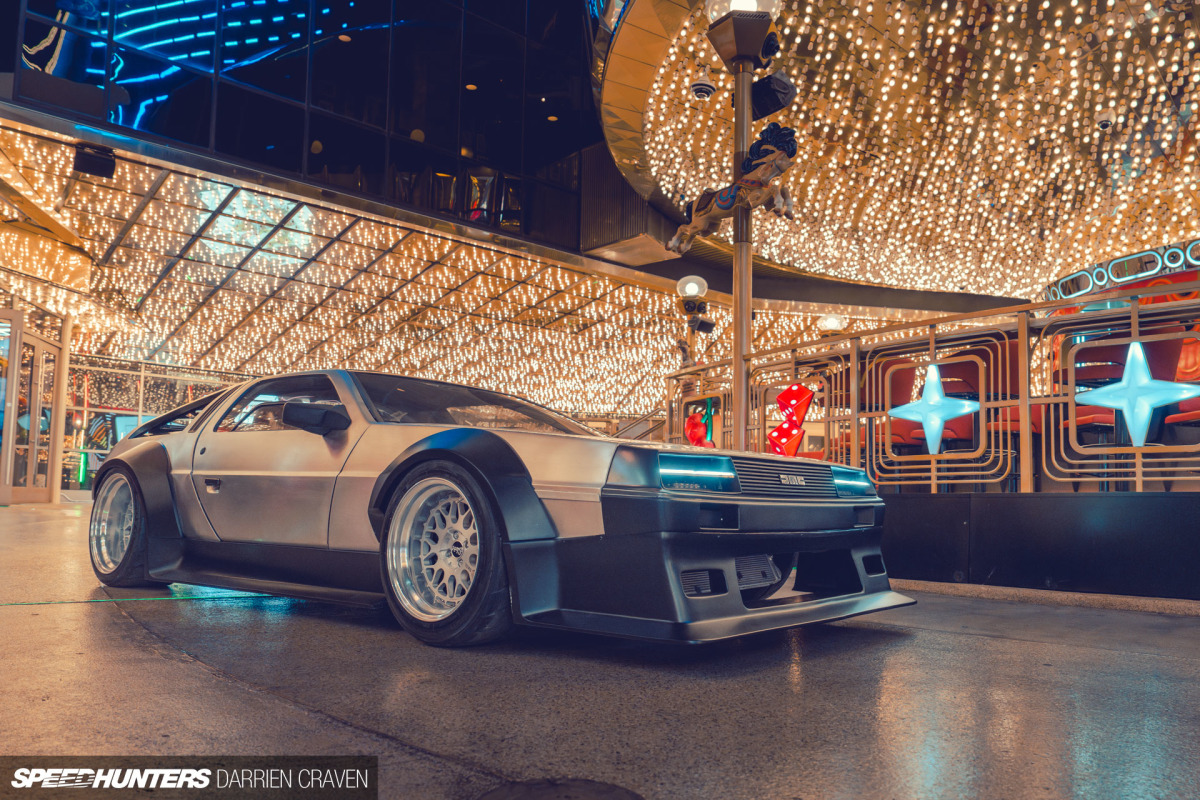 Mix this with Tim's Japanese modified car culture influences that are present in his field of work and an interest in 1980s IMSA race cars, and the result will end up being a low, swooping, wide and flamboyant embodiment of nostalgic '80s lines and retro-futurism.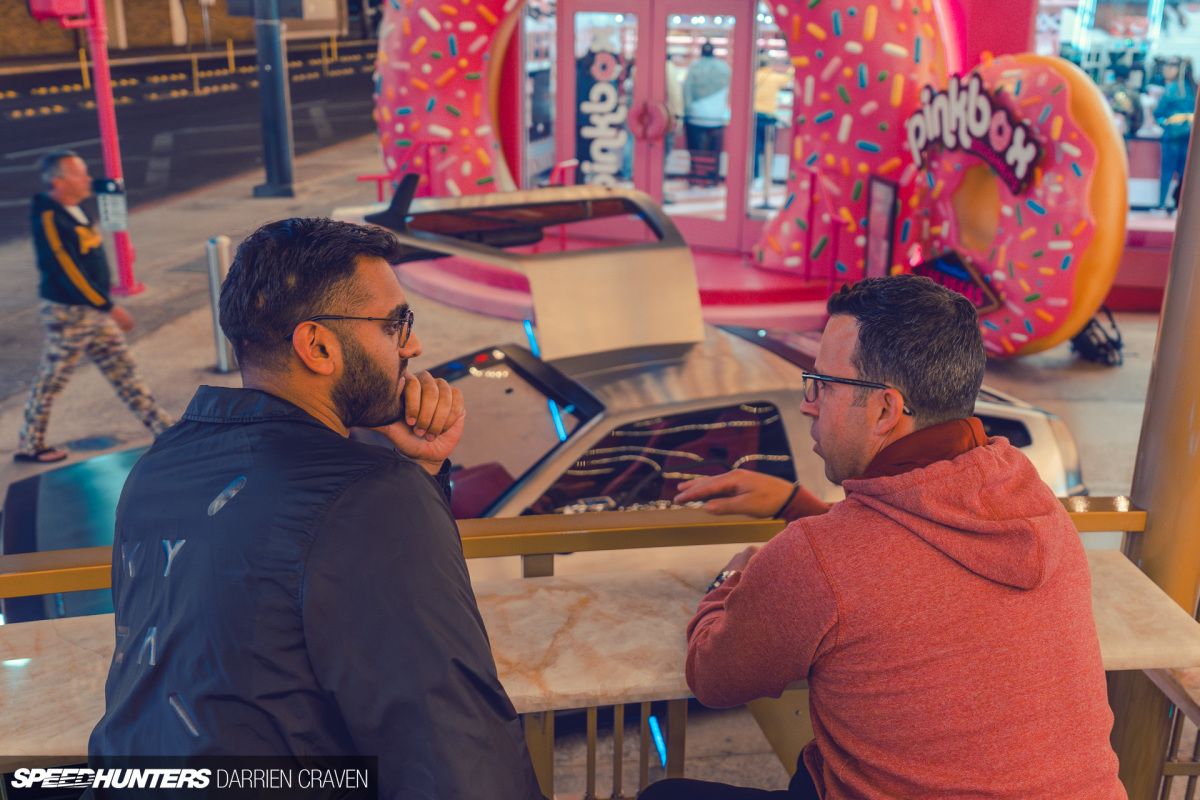 Now, that's a lot of moving parts, so naturally Tim needed help to ground his ideas and vision in order to bring it to reality. The factory lines of the DeLorean, whilst stunning, weren't 'out there' enough. Luckily, Tim knew the man for the job. Khyzyl Saleem, otherwise known as Kyza, got the call up. A 3D digital render expert and titan of the industry, Kyza was the perfect man to redesign the DMC-12 base, realising Tim's vision for his project.
As it happens, Tim possessed a few previous renders and blueprints for the IMSA DeLorean prototype that was due to go racing in the series back in the '80s. This gave Kyza a rough idea and creative direction of where to begin and where to take his render.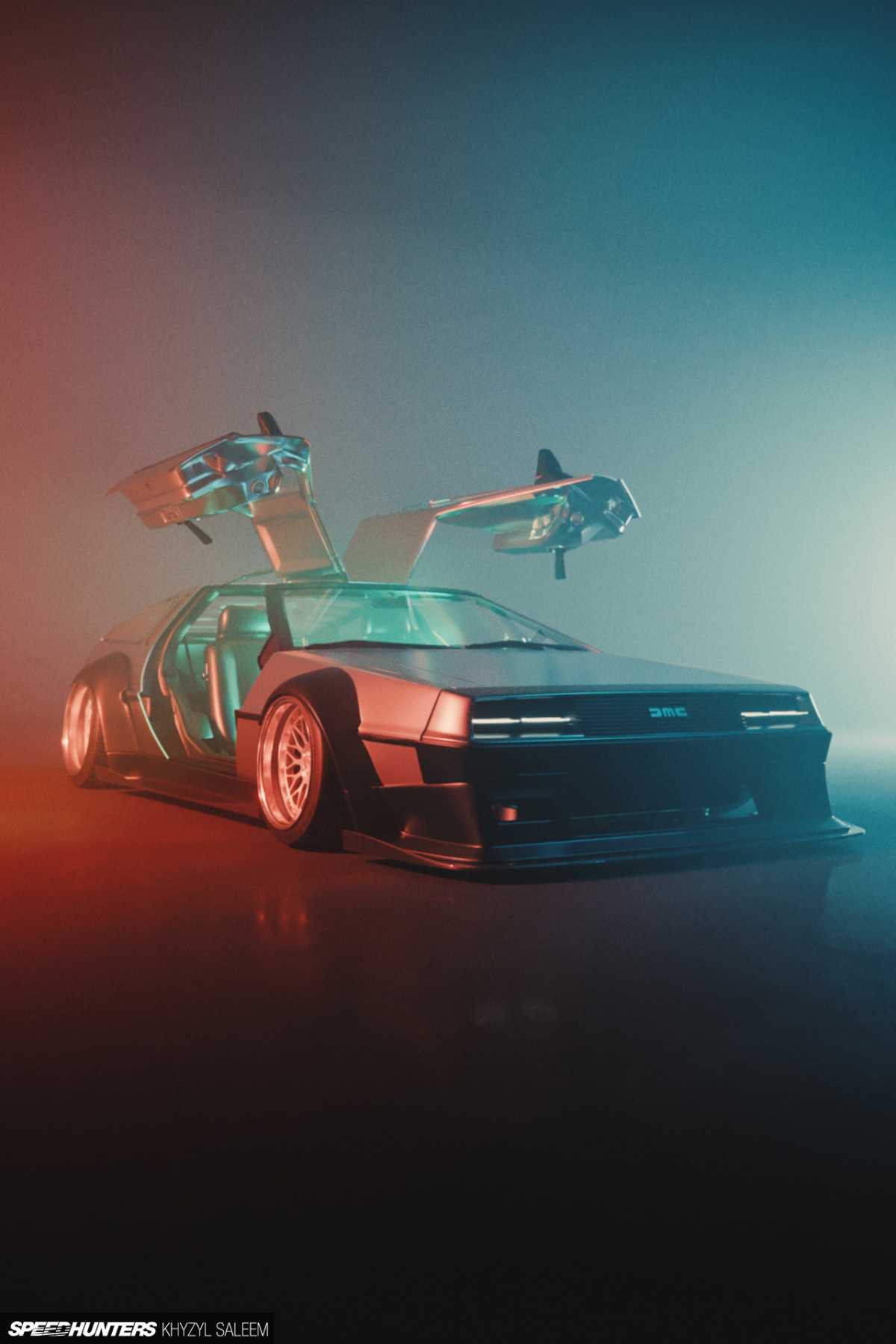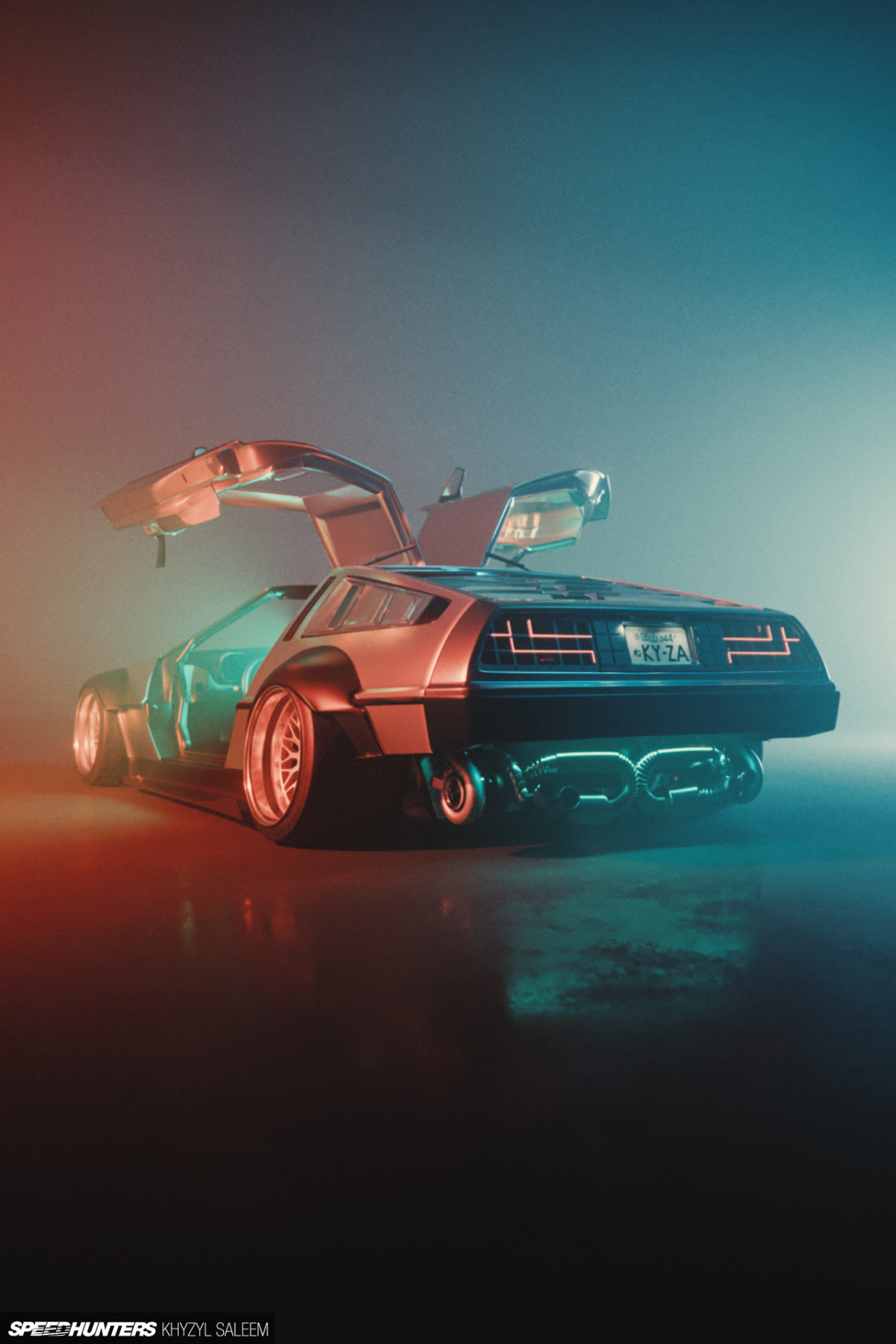 Playing on the strengths of the original DMC-12 design, Kyza magnified the impact of the car's straight-cut metal lines and boxy nature. The lights were made more prominent and brought inline with the cyberpunk theme, and the DeLorean received race car aero, just as it would have if it ever made it to an IMSA race start line.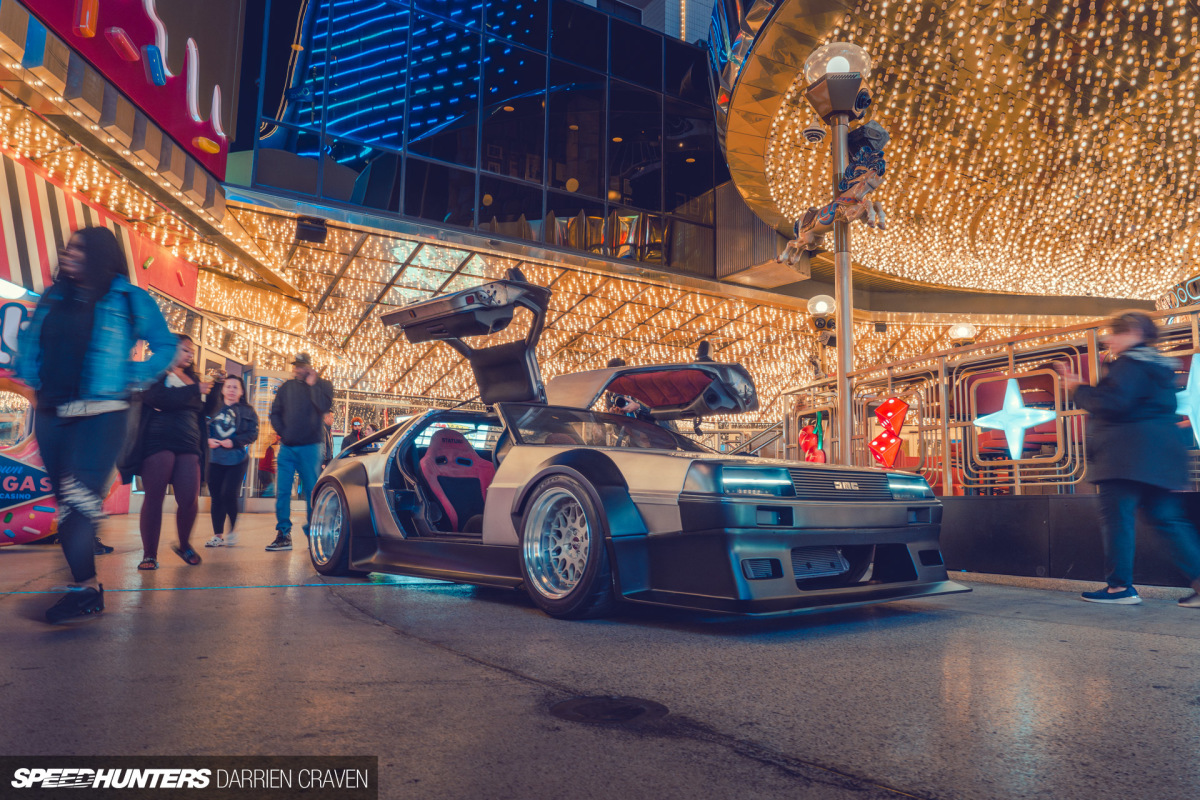 Turning the renders into reality brought with it new hurdles for Tim. With the 2021 deadline approaching faster than initially imagined, he found himself almost in a 'Battle of the Builders' predicament where the real world outcome wasn't aligning with the original vision. Alas, the 2021 SEMA Show saw Tim's DeLorean presented in an unfinished state.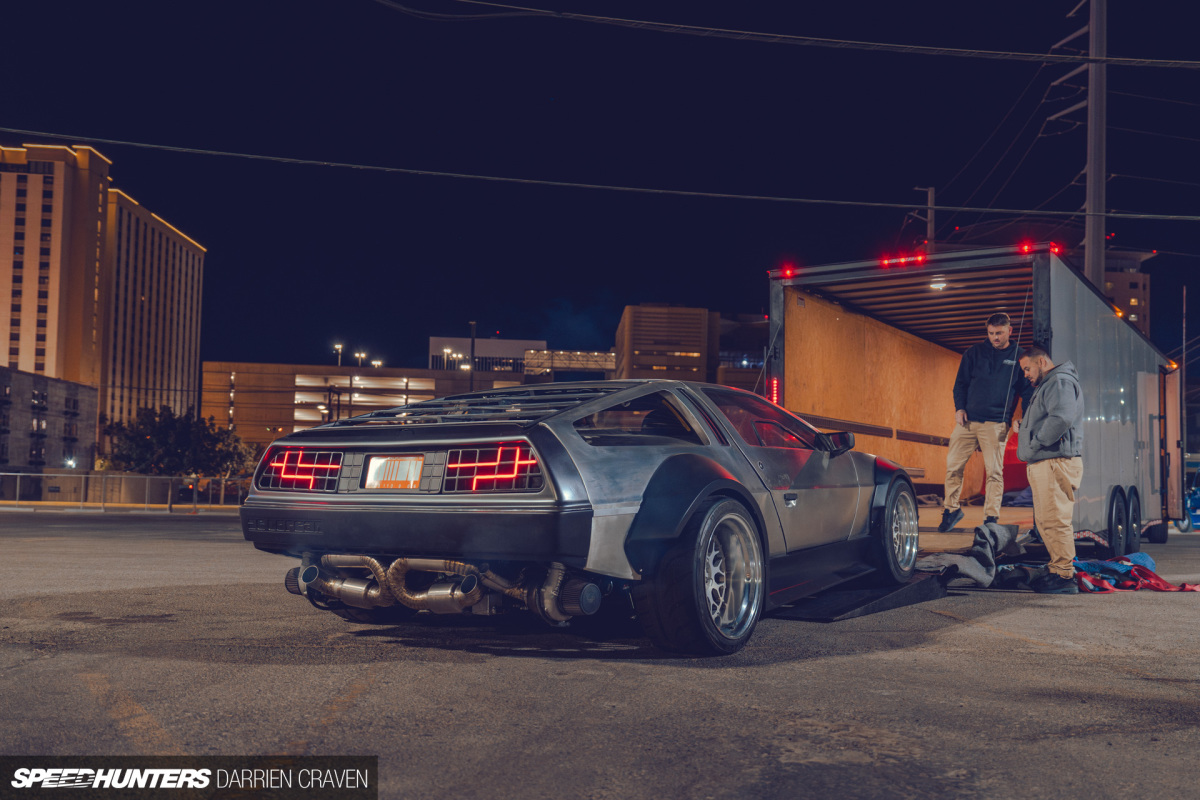 With time though comes new opportunity, and before Tim knew it he had a revised deadline to aim for. If his calculations were correct, when this baby hit SEMA 2023, we were gonna see some serious sh*t.
Tyler Thompson of Fortune Auto Design in Canada was up next. Tyler is a body genius who's worked with Kyza and his renders before, bringing the LTO E30 design to life.
What you're seeing in these photos is V2 of the DeLorean kit. Slightly narrower than V1, but sharper, more aggressive and much more in line with the original design brief. Changing the kit would be pivotal in turning Tim's DMC-12 into the SEMA project he really wanted to put out into the world.
Steve Moland of Skeptic Innovation is the brains behind the lights on the car, and he too worked closely with Kyza to ensure the finished product was just right.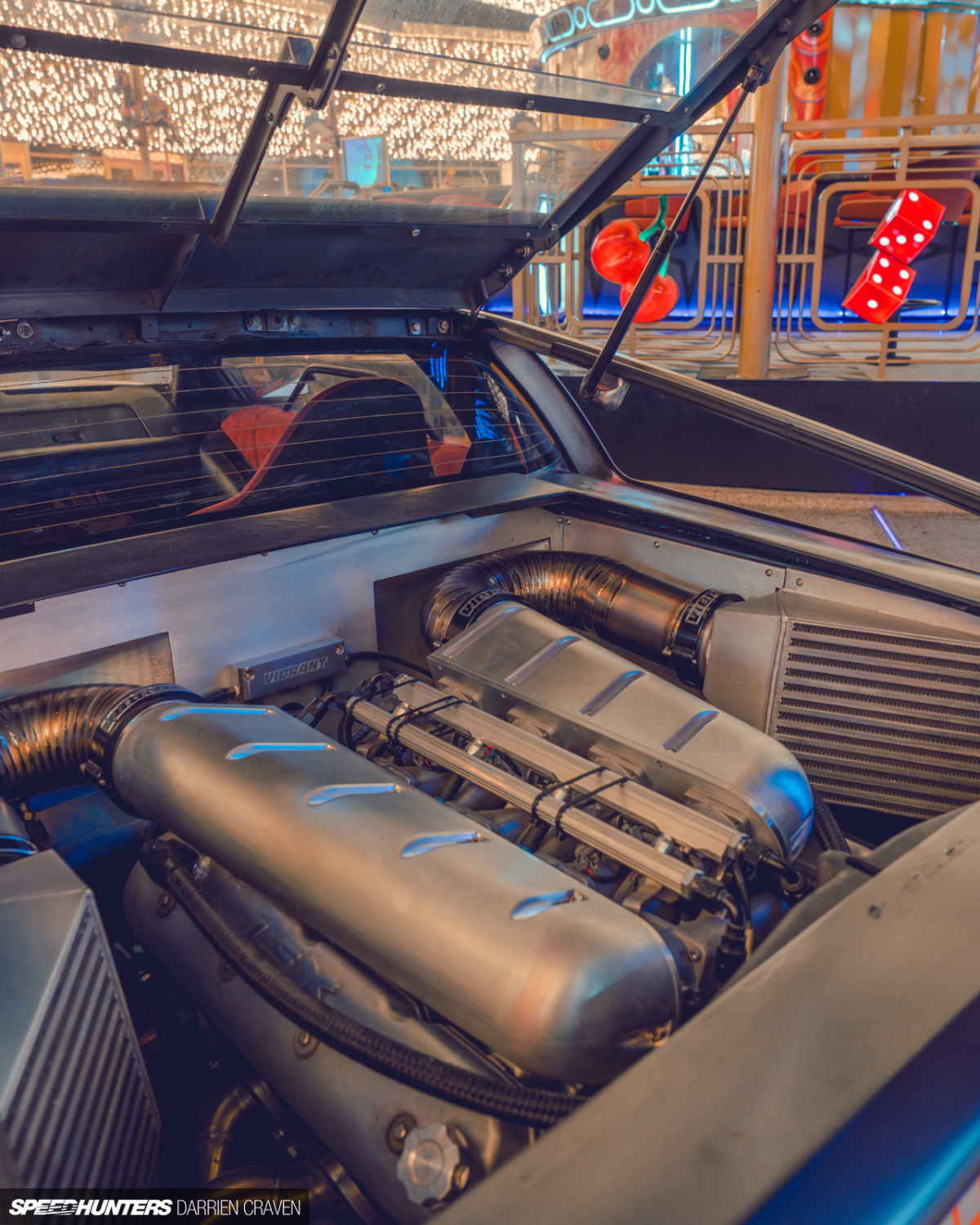 With the visuals in good hands, Tim turned to the power plant. The original 2.85 gigawatt V6 motor wasn't enough to get it to 88mph let alone to the Las Vegas Convention Center. In its place, Tim settled on a 5.3L all-aluminum, fourth generation Chevrolet LS V8. Again though, this wasn't enough, so he ended up fitting a pair of Garrett G30 mirrored turbos and a full titanium exhaust from the team at Vibrant Performance.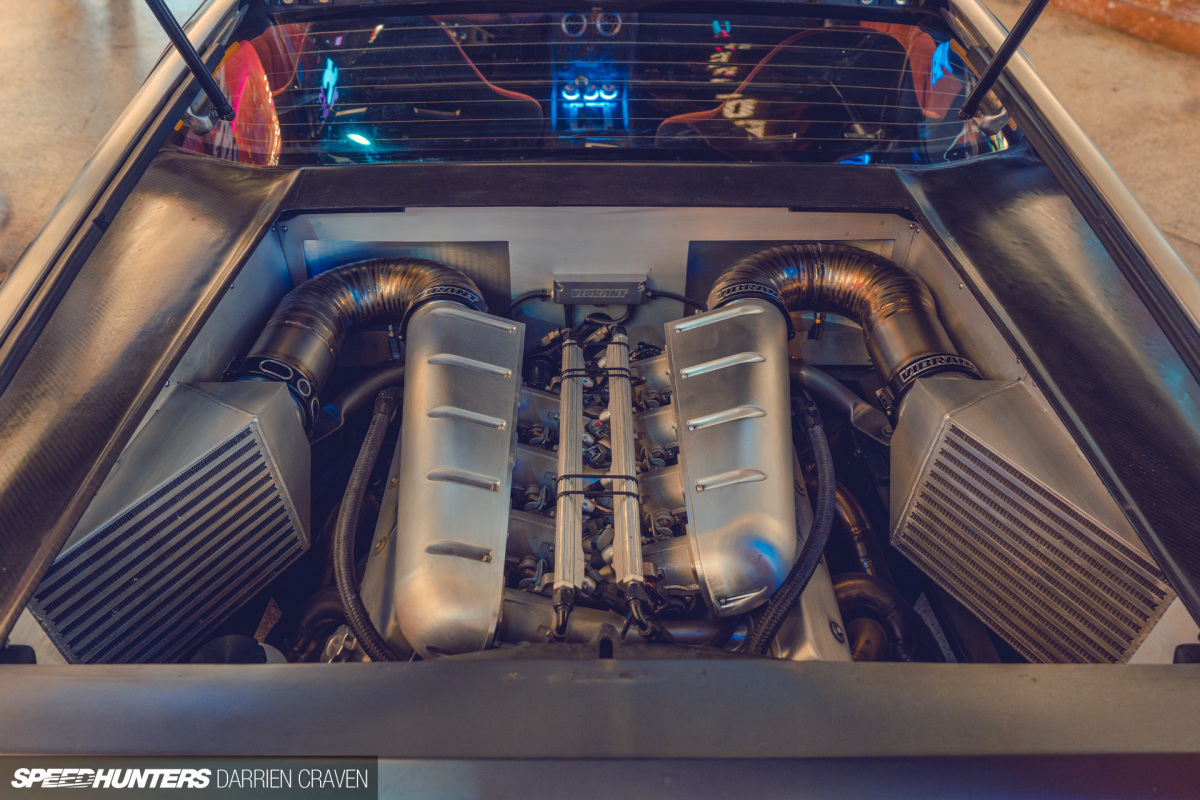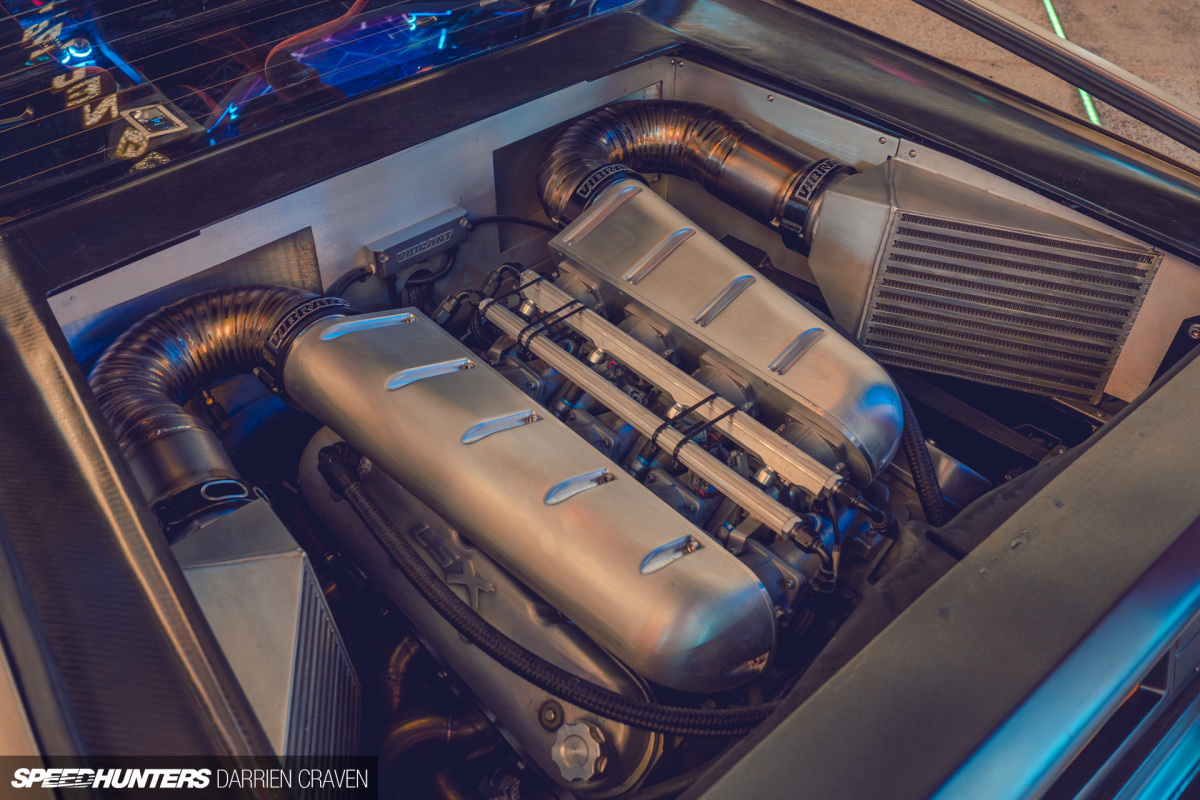 The wastegates are Turbosmart items and intake charge cooling is provided by air-to-air intercooler cores from Vibrant. The icing on the cake is an individual throttle body setup with custom CNC plenums from JC Customs. The fuel system was pieced together by Aeromotive and engine management comes in the form of a Haltech Nexus R5.
It's safe to say that Tim has returned to SEMA in 2023 with redemption.
The finishing touches were a set of super-wide Sköl SK17 3-piece wheels wrapped in Toyo Proxes R888Rs all round, with Air Lift Performance Builder Series shocks and management. Bagged To The Future they call it, and for good reason.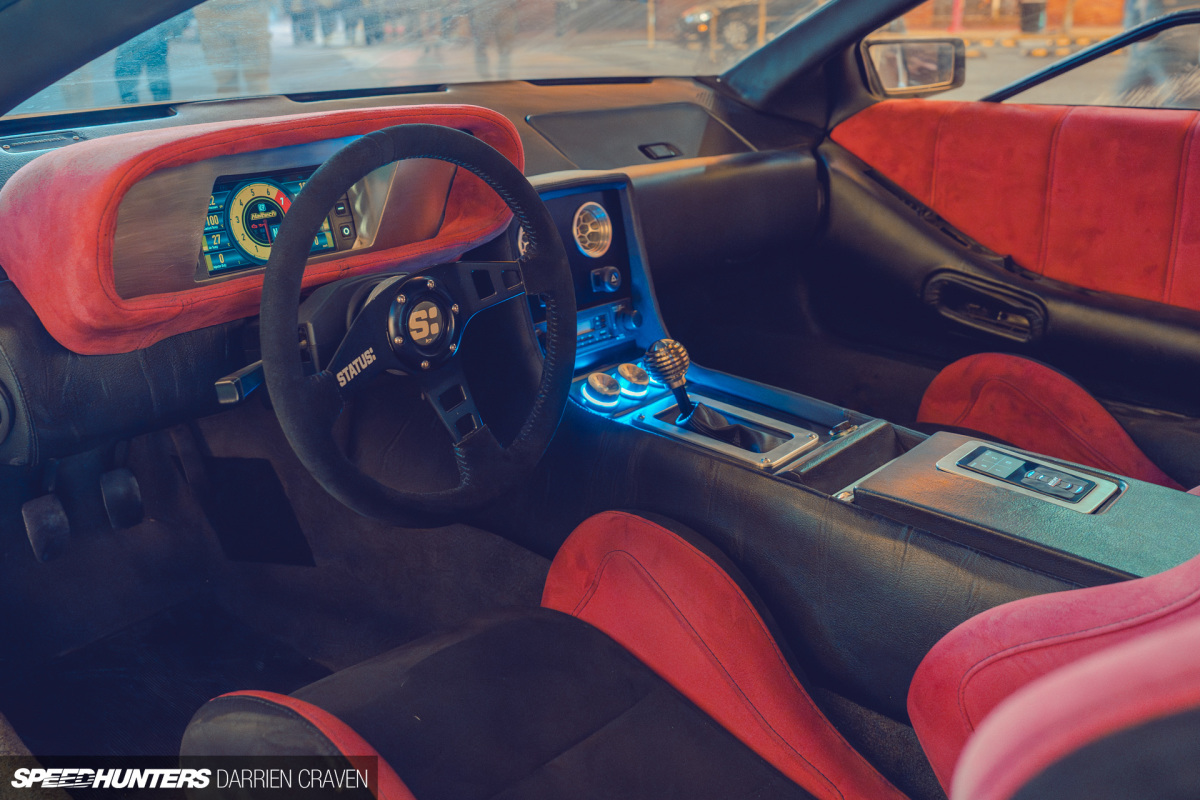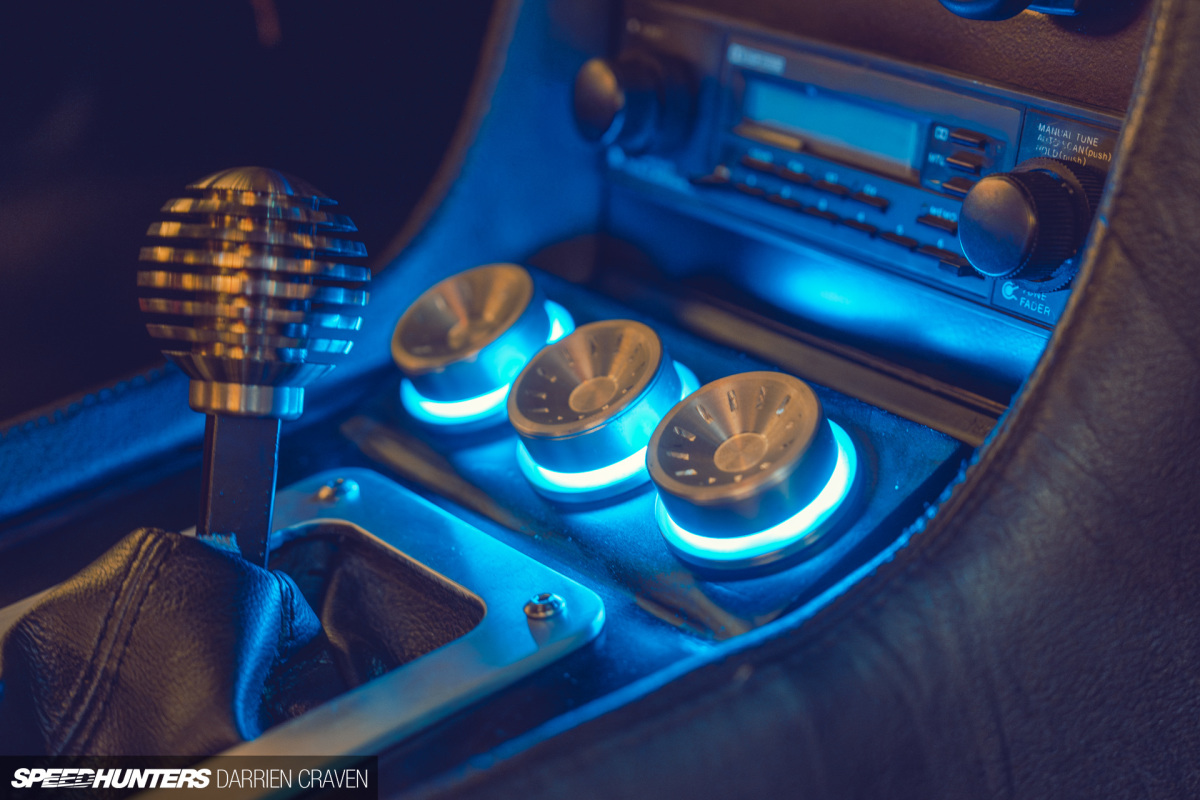 The interior features Status carbon fiber bucket seats, a Haltech IC7 display and restomoded climate control knobs and vents.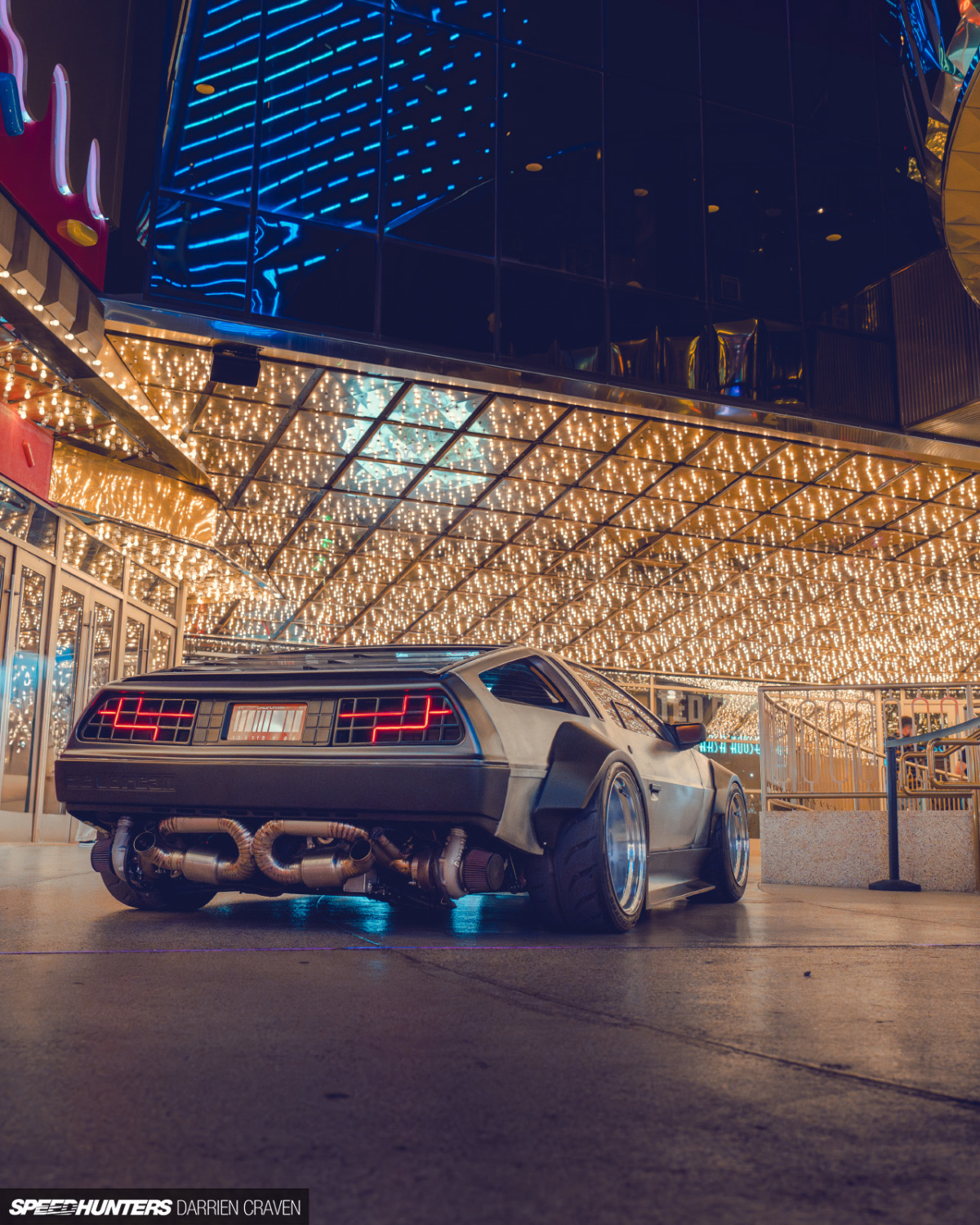 Tim really has left no stone unturned. If you want to check out the DMC- 12 at SEMA this week, pop over to the Air Lift Performance booth, #23743.

Anyway, that's all from me today folks. I'm going to make like a tree and get outta here before the Libyans arrive…

Michał Fidowicz
Instagram: candyshowroom

Photography by Darrien Craven
Instagram: _crvn_







Credit : Source Post